COVID19 will Extend AI and analytics on to the IoT Edge. Covid-19 already started to giving big push On Edge Technology Markets. As COVID-19 open's a door to our society to redesign the thinking of our future society. Day by day human society will be more dependent on the Internet of Things. Human interaction way will change in the near future.
IoT Edge
Enterprise users and service providers are the main users of the IoT Edge device. An edge device is a hardware that in charge of data flow at the boundary between two networks. Edge devices execute a variety of roles, depending on what type of device they are, but they essentially serve as network entry or exit points. Some common functions of edge devices are the transmission, routing, processing, monitoring, filtering, translation, and storage of data passing between networks.
Internet of Things Edge Present and Future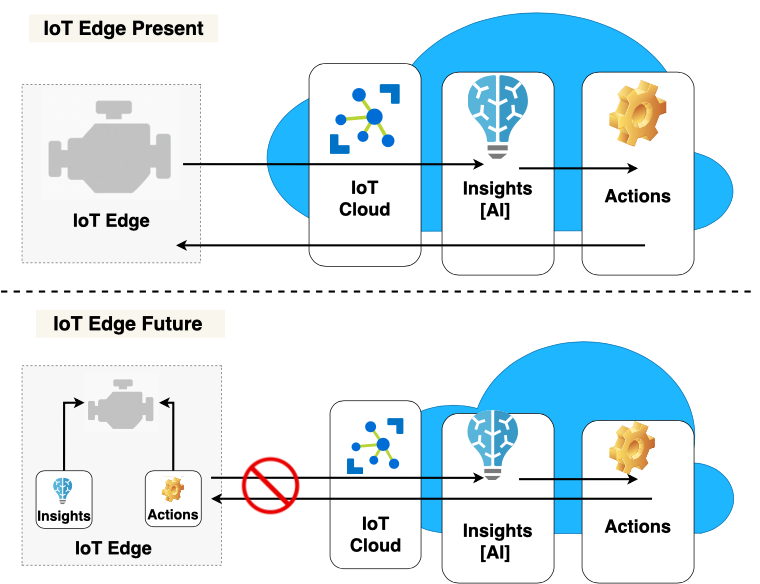 Nowadays most IoT Devices collect sensor data and directly send them to the IoT Cloud. AI, Analytics, and Machin learning, etc are processed in the cloud with those data. After that are again sent back to the Edge devices.
The future is very close where we will Extending the Intelligent Enterprise directly on the Edge Devices. Where Edge devices will do the minimum label on AI and Analytics before sending data to the cloud. Which will allow for making the decision to do the more accurate actions.
Why Extend to do AI and analytics directly on the Edge Internet Of Things
Data volume and Bandwidth Capacity, Intermittent Connectivity, and Fast Decision Making those three are the driver for Edge computing. Edge IoT will enable so many microservices like Policy Service, Essential Business Functions Service, Predictive Analytics Service, Streaming Service, and Persistence Service.
Who are already in the market?
Azure IoT Edge, SAP Leonardo, Cloud IoT Core, NVIDIA, Dell, Siemens MindSphere,